Michelle Obama has been called a feminist icon. How much do we know about the former first lady?
Michelle Obama is a globally acknowledged name from her time as FLOTUS alongside her husband, Barack Obama. Over the course of eight years, she championed women's rights and advocated for healthier opportunities for children.
Besides that, she is the only first lady in our history to hold two Ivy League degrees, and she was even dubbed "The Closer" for her capacity to get undecided voters to sign pledge cards.
Not only this, but she's been an influence on women worldwide and led the way in the feminist movement. How so? Let's take a look at 8 ways Michelle Obama has impacted feminism!
Michelle Obama aced her speech at the State Department Women of Courage Awards.
People seem to feel that Michelle is constantly slaying in their eyes. When she gave a speech at the State Department Women of Courage Awards back in 2009, she urged women to advocate for their values and themselves.
She declared, "The women we honor today teach us three important lessons. One, as women, we must stand up for ourselves. Second, we must stand up for one another.
And third, we must stand up for justice for all." We should probably all live by that speech given by Michelle Obama all those years ago.
Supporting women and their education is always at the back of Michelle Obama's mind.
Just because her husband was doing his thing doesn't mean Michelle was just cheering from the sidelines! She's been rather busy creating her own legacy. She began the "Let Girls Learn" initiative in 2015.
The concept was to help educate 62 million girls worldwide who aren't going to school. She wrote an essay on the matter for The Atlantic back in 2016 where she talked about the initiative, which we can't help but notice that it pretty much sums up why she's a feminist idol.
She spoke about how she sees herself and her daughters in these girls, so she can't just walk away from them.
Michelle went on to talk about how she plans to keep raising her voice on their behalf for the rest of her life, urging world leaders to invest in them and create societies that value them as human beings.
This former first lady also wants to continue raising awareness about the power of sending girls to school.
Michelle Obama reminded girls that romance and boys shouldn't be the most important thing.
When Michelle Obama made a speech to tell American girls that education is more critical than teenage romance, we felt her words resound with feminists regardless of age.
Ever a relatable FLOTUS, she communicated her own experiences, and it's something schoolgirls everywhere should probably hear. According to her, there weren't any boys, at that young age, cute or interesting enough to stop girls from getting a proper education.
What really resonated with the public was when she declared: "If I had worried about who liked me and who thought I was cute when I was your age, I wouldn't be married to the President of the United States."
She also encouraged girls to "Compete with the boys. Beat the boys" and gave dating advice to the younger generation, telling them that no boy was worth giving up their education.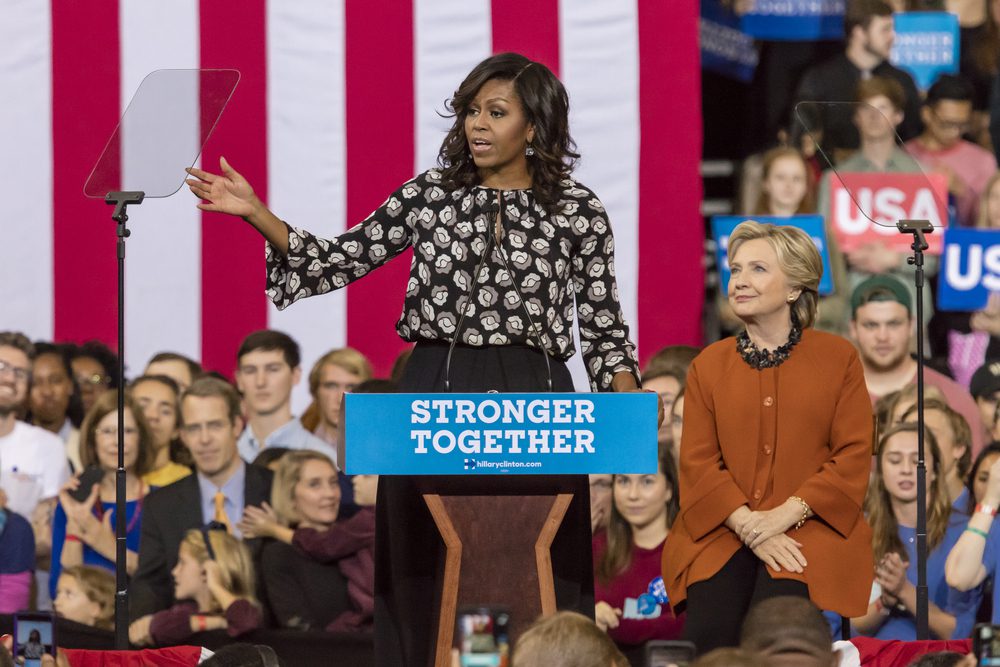 Michelle Obama spoke out about Trump.
Back when people thought that Hillary Clinton had a chance of becoming the new president, Michelle took an opportunity in New Hampshire to speak out about her opponent.
In just a few lines, Michelle Obama ripped into Donald Trump in the way many women would be proud of after his sexual assault allegations became known, describing how she felt with just a few powerful lines: "I listen to all of this, and I feel it so personally. And I'm sure that many of you do as well.
The shameful comments about our bodies. The disrespect of our ambitions and intellect. The belief you can do anything you want to a woman? It's cruel and it's frightening. And the truth is that it hurts."
It was an emotionally raw speech against rape culture and one of the most unforgettable moments of the election.
She also took a few moments to empower women listening worldwide by saying that although our grandmothers and mothers were usually powerless to change their circumstances, women today have all the power they need to decide the outcome of an election.
Unfortunately, that election did NOT go how she would have liked, but she continues to inspire many people today.
Michelle Obama encouraged women to take on the task of eliminating injustice.
In 2014, when she was addressing a group of young African leaders, she made it clear that respect for women is vital to making a nation successful.
Obama encouraged women to be the generation that ensures they are no longer second-class citizens and take their rightful places in schools.
She wants the younger generation to be the one that stands up and declares that violence against women, in any shape or form, should never be accepted. She believes that women's rights violations like these have no place in any society.
Michelle also used her status to emotively and strongly speak out about the oppressed circumstances many African women face.
The former first lady strongly believes, as do many, that any man who uses his strength to persecute women is weak and is holding back the progress of his country and family.
Michelle Obama told men to just "Be Better!"
Can you recall how incredible it was to witness Michelle Obama hanging out with Oprah at the United State of Women Summit? Well, what we remember most is that she had a brilliantly sassy message for men. Be better!
By this, she meant that men should be better at everything all around. But first and foremost, they should be better fathers.
She strongly feels that being good fathers who love their daughters and provide an excellent example of what it implies to be a good man shows them what it feels like to be loved. She said that was the greatest gift the men in her life gave her.
Let's talk about Michelle Obama's taste in music.
International Day of the Girl is obviously a significant chance for feminists all around the world to celebrate each other. And the former first lady gave us a soundtrack for doing this when she shared her favorite feminist "girl power" playlist on Spotify.
What was featured on this great set of tunes? Well, everything from soul singers of the 1960s to female artists who are climbing the charts today.
This includes Aretha Franklin, Diana Ross, Jennifer Hudson, Alicia Keys, and, because no girl power play is complete without her, Beyonce. Can you imagine Michelle dancing around the living room to "This Girl Is On Fire"?
And let's not forget the songs she chose for Carpool Karaoke. Michelle Obama and Missy Elliot duet? Yes, please!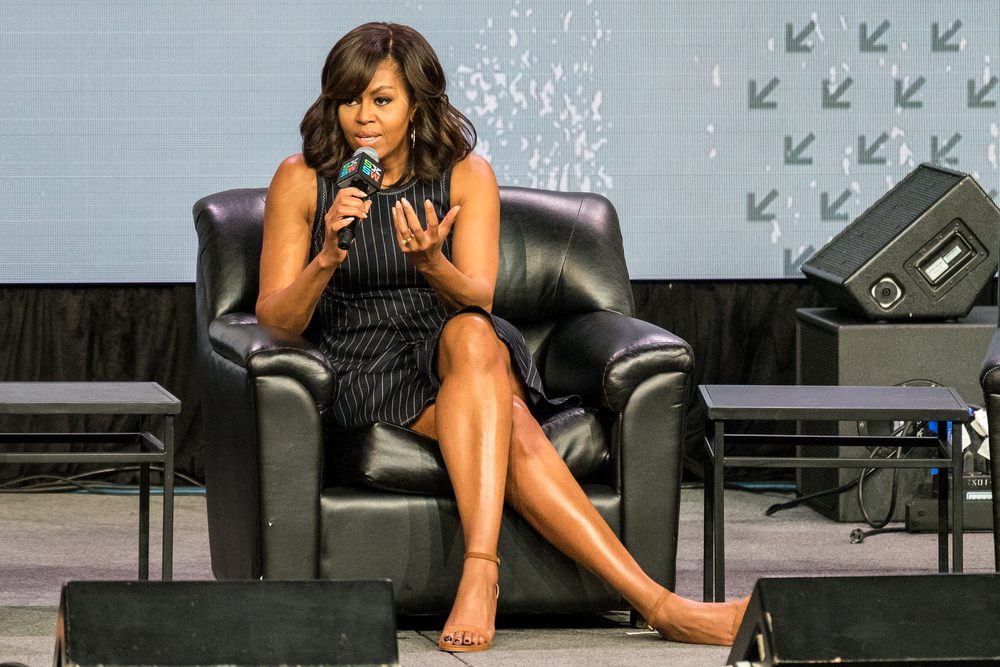 When she was the first lady, Michelle Obama hosted a dinner to back up mentoring programs for young girls.
In her speech, she urged girls to break the glass ceiling. She said, "Once you see somebody on TV, it looks easy, but we only know many of these women once they've become famous and are in the news.
Faith, love, and hard work…that's what got us through. You don't need connections or money. The question is, do you let fear stop you?"
The bottom line is that Michelle Obama has empowered many people in many different ways. And we're not surprised. Her overall motto?
She has been quoted as saying: "There is no limit to what we, as women, can accomplish." And, really, that sums up why many folks are calling her a feminist icon.
If you're curious to learn some more about this inspiring feminist, "Becoming" by Michelle Obama is available on Amazon!
And if you liked this article, we also recommend checking out: Nancy Pelosi: 5 Cold Hard Facts About Her You NEED to Know