In November 2019, the Democratic National Committee had just $8.7 million in cash in its war chest and $7 million in debt. Now, $8.7 million may seem like a reasonable amount to fund Democratic candidates and causes, but bear in mind that at the same time, the Republican National Committee and the Trump campaign boasted $158 million in ready cash.
During the 2020 election, many donors have begun to reach deep into their chasm-like pockets. This is true on both sides of the aisle, so here we take a look at those individuals who have not only had a long history of giving but are giving in larger amounts.
When calculating these percentages, only the contributions made to Democrats, Republicans, or liberal or conservative outside groups are included in this list of the most recent individual contributors.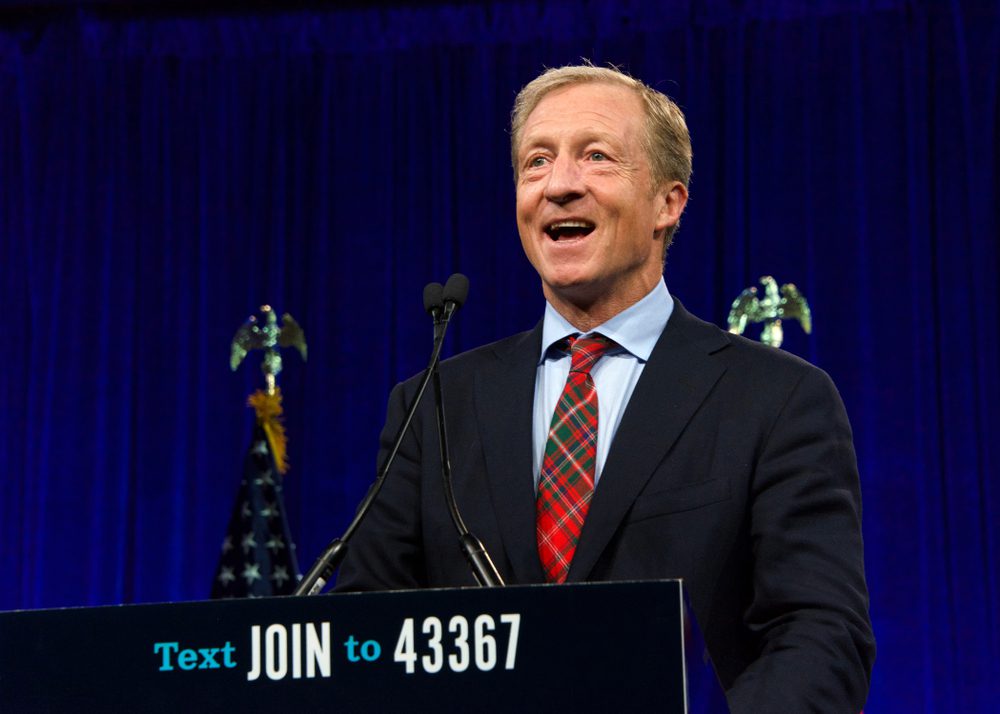 Tom Steyer
Born in 1957 in New York City, Thomas Fahr Steyer, better known as Tom Steyer, is an American businessman, philanthropist, and founder of Farallon Capital Management.
After graduating from Phillips Exeter Academy in Exeter, New Hampshire, he would go on to study economics and political science at Yale University. In 1979, while working at Morgan Stanley, he would add to his academic achievements by earning a Master of Business Administration degree from Stanford University in 1983.
When he then moved on to Goldman Sachs, he earned a reputation for his aggressive investments. Fostering that reputation, he started his own hedge fund in 1986 and named his company Farallon Capital Management, Farallon being a group of islands near San Francisco that was famous for being surrounded by shark-infested waters.
Turning Farallon into one of the leading and most successful hedge funds with its involvement in the management of university endowments, those relationships with universities would spark controversy in 2004 when student protests erupted on campus.
They questioned Farallon's social and environmental responsibilities in relation to some of the ventures they were involved in.
This backlash was the apparent catalyst to cause Steyer, already a Democratic Party supporter, to change tack to help climate-change efforts, challenge Californian state laws, and provide financial support to politicians in line with his climate philosophy.
These moves saw him become influential on the California political stage, so much so that in 2012, Steyer left Farallon and withdrew any financial investments in any companies associated with fossil fuels.
In 2013, he became the founding president of NextGen Climate, a progressive advocacy nonprofit and political action committee, and Beneficial State Bank in Oakland, California, among other projects.
These would see him establish himself on the national political scene. His national profile would expand in 2017 when he launched a campaign to impeach U.S. President Donald Trump, which utilized digital and television advertisements as well as an online petition that garnered over 8 million signatures.
The impeachment was as unsuccessful as Steyer's own run for the presidency, which, due to disappointing performances in several primaries and caucuses, ended in February 2020.
Total Contributions – $40,662,138
To Democrats & Liberals – $40,655,423
To Republicans & Conservatives – $25
Richard and Elizabeth Uihlein
Dick and Liz Uihlein have had a long association with the Republican Party and have contributed millions of dollars to groups backing right-wing candidates. Strangely, however, despite their substantial contributions and obvious influence, few American voters have heard of them.
After obtaining a BA in history in 1967 at Stanford University, Dick Uihlein already had a rich history as he is descended from one of the original founders of Schlitz beer. He spent his early years working for his father's company, an office supplies manufacturer, General Binding Corporation, before leaving to start his own business at the start of the 1980s.
Along with his wife, Uihlein would become a shipping supply distributor with his new company, Uline, turning it into a packing supply giant in its four-decade history and generating over 5.8 billion dollars in revenue to this date.
This conservative couple, despite shying away from the public, has not shied away from digging deep into their pockets to support more than 60 congressional candidates, some more controversial than others.
One such recipient was Judge Roy Moore, whom the couple bankrolled despite numerous accusations of sexual misconduct with underage girls.
Mississippi Senate candidate Chris McDaniel has received $750,000 from Mr. Uihlein, and Ted Cruz got their backing with the 2016 presidential bid. This election cycle has seen them spend even more.
Just over $11 million would be split between three political action committees. $4.2 million towards the Restoration PAC, $3.7 for the Americas PAC, and $3.5 for the Solutions for Wisconsin PAC Mr. Uihlein also contributed more than $7 million to PACs affiliated with Club for Growth, an anti-tax group that garnered support in 13 recent nationwide races.
The Uihleins haven't hidden their opposition to gay and transgender rights and caused a considerable stir in 2018 when they released a campaign ad backing then-conservative candidate Jeanne Ives.
The advertisement showed a crude and false depiction of a transgender woman, highlighting her opponent, then Gov. Bruce Rauner of Illinois, and his support for transgender people.
Total Contributions – $38,081,254
To Democrats & Liberals – $0
To Republicans & Conservatives – $38,081,254
Timothy Mellon
Another right-wing-leaning and significant donor to the Republican cause is 77-year-old billionaire Timothy Mellon. Mellon has been a big player in the transportation industry ever since he got his start as the chief financier of Guilford Transportation Industries when it was formed in 1977.
By the end of 1984, GTI had swiftly bought up the Maine Central, Boston & Maine, and Delaware & Hudson railroads. By 1998, they had also swooped up on the bankrupt Pan American World Airways.
Much like Trump (the man he supports), Mellon is not entirely what you would call a self-made man. He comes from a long lineage of wealthy bankers and industrialists. When Forbes magazine compiled its first list of the wealthiest people in America in 1957, the Mellon family was among the top eight richest.
He has donated small amounts to Democratic candidates in the past, but his main focus has always been supporting Republican candidates and associated Super PACs, especially those affiliated with Trump.
The America First Action Super PAC, founded by WWE owner and Trump ally Vince McMahon's wife Linda, would see a $10 million influx of cash from Mellon. Mrs. McMahon had previously served as the head of the Small Business Association after being successfully nominated for the position by the president.
Mellon's controversial views on race and social safety programs have seen him met with severe criticism.
In his 2016 autobiography entitled "Panama Captain: The Intriguing Story of Tim Mellon," he described African Americans using racial stereotypes and referred to social safety programs as "slavery redux". Claiming that Democrats 'bought' African American votes by promising them "freebies."
Total Contributions – $30,075,155
To Democrats & Liberals – $2,800
To Republicans & Conservatives – $30,072,355
Donald Sussman
Selwyn Donald Sussman, more commonly known as just Donald Sussman, has built up a reputation for his philanthropy and is well-known for supporting educational, political, and humanitarian causes throughout the world.
This Miami native and son of a successful real estate developer would earn a Masters in Business Administration from New York University, however, his financial career would begin long before he graduated.
In 1958, aged just 12, Sussman correctly predicted that the Cuban Revolution would have a drastic impact on the price and production of sugar. He would put his money where his mouth was when he invested $300 in the stock of Michigan Sugar, quickly making a sixfold return on his money.
After graduating, he would take on a dual role as both the chief financial officer and vice president of the privately held trading firm, Titan Industrial Corporation.
After managing some money for Gelberg & Abrams, a New York law firm, Sussman would go on to establish his own hugely successful hedge fund when he created Paloma Partners in 1981.
He would adopt a pioneering strategy that would minimize risk and demand absolute transparency, and this strategy was mostly successful because, in Paloma's first 18 years on the financial stage, 15 of those years would see a profit.
Sussman has long defined himself as a liberal Democrat and, as such, has been a frequent donor to Democratic candidates.
Past beneficiaries of his generosity and fundraising skills have been both Bill and Hillary Clinton and Al Gore in his 2000 presidential run.
In 2016, he would give Democratic super PACs and aligned groups $40 million, of which $21 million of that donation would go directly to the presidential candidacy of Democratic nominee Hillary Clinton via the Priorities USA Action super PAC.
By the 2018 midterm elections, Sussman had continued his support for Democrats and Democratic-aligned groups by contributing $27 million. 2020 is no different, as this hedge fund magnate continues to put his considerable financial weight behind removing Trump and replacing him with Democrat Joe Biden.
Total Contributions – $21,972,000
To Democrats & Liberals – $21,961,400
To Republicans & Conservatives – $5,600
Karla Jurvetson
Earning a bachelor's degree in human biology with distinction and honors in 1988 from Stanford University, Karla Jurvetson would continue to lend her talents to a number of causes over the last three decades. No sooner had she graduated, she volunteered to go door-to-door campaigning for Anna Eshoo's first campaign for Congress.
In 1993, Jurvetson would add a medical doctorate from the University of California to her list of qualifications, and soon after, in 1997, she would complete her psychiatry residency at Stanford. Eventually, she would open her own private practice in Los Altos, California. Her life as a physician, philanthropist, and political organizer was well on its way.
From 2003 to 2006, she served on the board of directors of the Peninsula Open Space Trust, helping with the conservation and protection of farms and open spaces. She would go on to serve on several other non-profit boards, many of them dealing with education and the arts.
In 2016, she would lend her support to Hilary Clinton, who would become the first Latina U.S. Senator, Catherine Cortez Masto. The loss of Clinton to Trump came as a massive shock to many, none more so than Jurvetson, as the election of Trump as president spurred her to vastly increase her financial support for Democratic candidates.
When campaigning for Obama in 2008, she made 46 contributions to Democrats totaling $128,700. After the confirmation of Trump as the 45th president of the United States, her donations would shoot up to $6.9 million by the time the 2018 midterms rolled around.
This would see her as one of five "surprising million-dollar donors" to the US midterm elections. With this current election cycle, 2020 doesn't look like the year Jurvetson will likely close her purse strings.
Total Contributions – $18,692,724
To Democrats & Liberals – $18,692,724
To Republicans & Conservatives – $0
Stephen Schwarzman
Consistently finding himself on lists of the top 100 most influential people in the world, Stephen Schwarzman has used his considerable wealth and influence to back Republican candidates and causes.
One of those he has strongly backed is his fellow Wharton School alumni and long-term friend, Donald Trump. Schwarzman would graduate around the same time.
Schwarzman would start his lengthy career in finance with the investment bank Donaldson, Lufkin & Jenrette before soon moving on to work at Lehman Brothers. There he would become a managing director at the surprisingly young age of 31, followed by a position as head of global mergers and acquisitions.
His boss, Peter Peterson, would see the potential in Schwarzman, so much so that the two would join forces in 1985 to start The Blackstone Group.
The Blackstone Group would initially focus its attention on mergers and acquisitions before eventually branching out into business acquisitions, real estate, direct lending, and alternative assets. After Blackstone went public in June 2007, a securities filing would show that Schwarzman had earned about $398.3 million in 2006 alone.
Although he has made donations to the presidential ambitions of George W. Bush – $100,000 to be exact – it wouldn't be until the nomination and selection of his friend Donald Trump as the Republican candidate in the 2016 election that Schwarzman's generosity would truly blossom.
The non-profit consumer advocacy organization, Public Citizen, would show in 2018 exactly what money it would be providing the sitting president.
Their report, "' Self-Funded' Trump Now Propped Up By Super PAC Megadonors," would disclose the fact that Schwarzman signed a check for $344,000 towards Trump's re-election campaign.
Trump had already appointed him chairman of the White House Strategic and Policy Forum, a group that advises the president on jobs and the economy. In 2019 and 2020, Schwarzman would donate a total of $1 million to the 1820 PAC, a PAC with the single purpose of getting Senator Susan Collins of Maine re-elected.
Total Contributions – $18,350,700
To Democrats & Liberals – $2,800
To Republicans & Conservatives – $18,254,500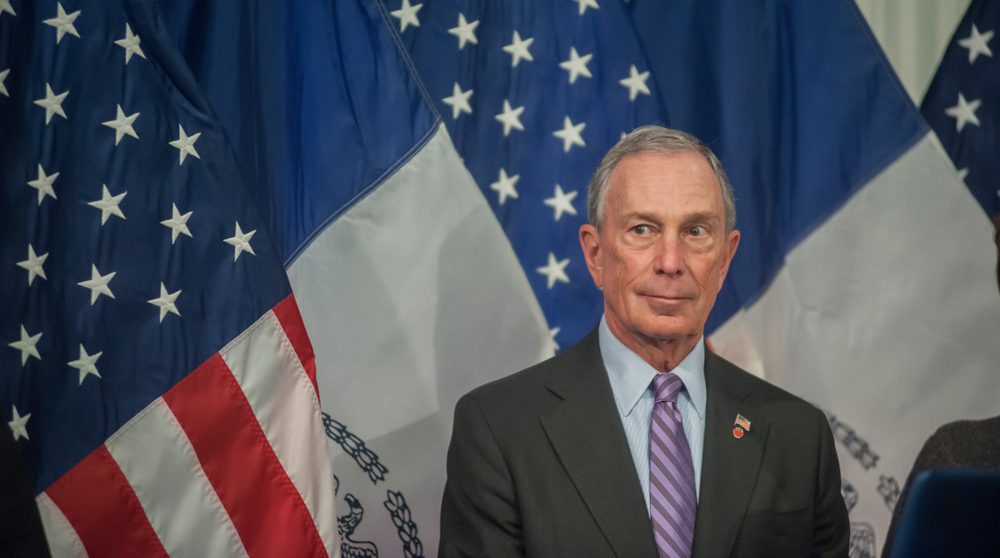 Michael Bloomberg
Already in the public eye due to his time as the mayor of New York City from 2002 to 2013, Bloomberg would try to elevate his political ambitions and position on November 24, 2019, when he announced himself as a candidate in the 2020 Democratic presidential primaries.
His short-lived, disappointing, and extremely expensive (spending $676 million of his personal fortune) foray into presidential politics would come to an end not long after, in March 2020.
The year and the money he spent trying to seek the Democratic nomination would shatter the record for the most ever spent on a presidential primary campaign, but he has had an interesting political career when it comes to his affiliations.
Despite stating that he is a lifelong Democrat, Bloomberg would jump the aisle and join the Republican Party in his mayoral run. He would shift again to become an independent in 2007 before registering again as a Democrat as of October 2017.
As Bloomberg had endorsed Barack Obama's re-election in 2012 and Hilary Clinton's run in 2016, it would come as a little surprise to anyone that after his failed attempt to become the nominee, he would put his weight behind the current nominee, Joe Biden.
Having already donated just under $20 million to the Democratic National Committee in 2020, Bloomberg has promised a "massive spending blitz" to support Biden's campaign.
Total Contributions – $19,301,084
To Democrats & Liberals – $19,301,084
To Republicans & Conservatives – $0
If you are curious about the life of Michael Bloomberg, check out this book.
You should also read: These 4 US Presidents Were Far More Controversial Than Trump