Foreign investment has long been a welcome factor that helps boost the U.S. economy. Many entrepreneurs, companies, or governments have been greeted with open arms by American markets, companies, banks, and real estate developers, hoping to shake the considerable loose change from their overflowing pockets.
Dealing with foreign individuals, companies, or governments might not be seen as much of a problem in today's global marketplace. However, many Americans are unaware that one of those investors just happens to be one of our biggest rivals, not just in business but on the international stage. We are currently engaged in a trade war with China.
Whether you're going to the movies to see the latest blockbuster, washing your unmentionables, or just preparing a delicious dinner for the family, there's a high probability that some of your hard-earned dollars are making their way to the coffers of the Chinese Communist Party.
So here we take a look at some of the iconic U.S. companies that have their slices of pie slightly painted red.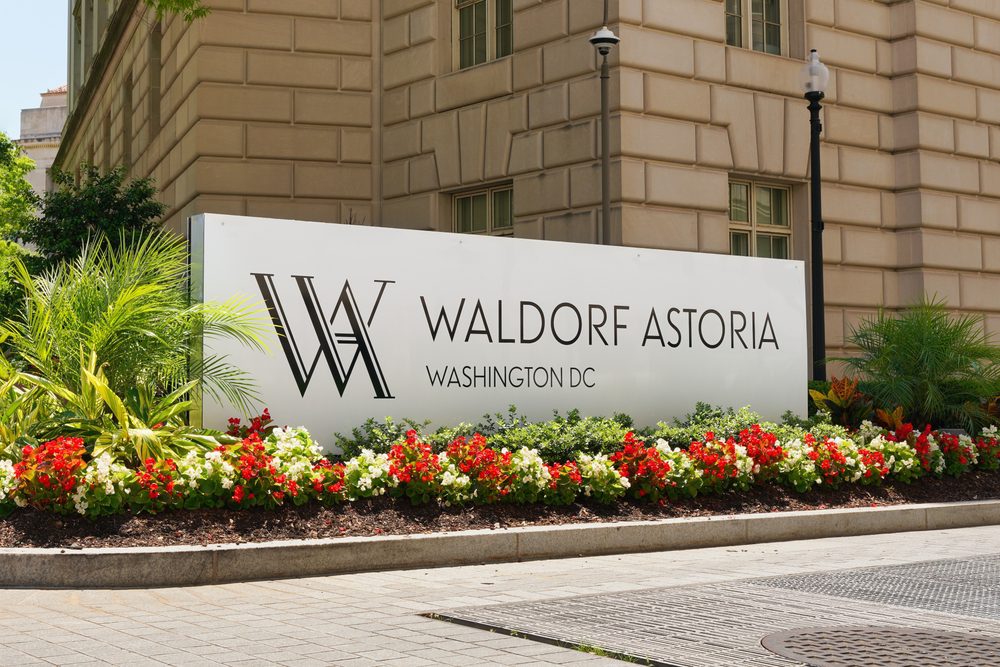 The Waldorf Astoria
This classic Art Deco landmark was designed by architects Schultze and Weaver and completed in 1931. It is considered one of the world's most prestigious and best-known hotels. Up until 2015, it was owned by Conrad Hilton, the famous American hotelier and founder of the Hilton Hotels chain, who then sold it to an unknown Chinese holding company called Anbang for a hefty price tag of $1.95 billion.
Based in Beijing, the Anbang Insurance Group was founded by Wu Xiaohui in 2004 as a regional car insurance company but would grow to deal with insurance, banking, and financial services, with assets estimated to be over $300 billion today. In 2018, Wu Xiaohui would be jailed for 18 years after he was found guilty of fraud and embezzlement.
The Financial Times has described Anbang as "one of China's most politically connected companies." Although a relative newcomer to the American market, they certainly turned heads when they purchased this iconic American hotel. A mystery still remains; however, since the incarceration of their founder, no one outside of China knows who now makes up the leadership of this powerful and influential company.
General Electric Appliances
There are few more iconic American companies than General Electric, and the GE Appliances division of the company has been providing American homes with stoves, refrigerators, washers, and dryers since 1907. This would drastically change in June 2016, when China would make its largest acquisition of an overseas electronics business when it bought a 90% controlling stake in the company.
That 90% stake would cost Chinese multinational home appliances and consumer electronics company Qingdao Haier a staggering $5.4 billion, with part of that deal allowing them the rights to use the GE brand name until 2056. But Qingdao Haier was not just some new kid on the block with some money to spend. They have been the number one brand globally in major appliances for 10 consecutive years, from 2009 to 2018.
In 2015, Haier began investigating how to integrate smart home technology into their appliances. Due to their inexperience in this field, they would partner with consumer electronics company IngDan, a subsidiary of the Cogobuy Group, the largest e-commerce platform for corporate procurement of electronic components in China.
However, Haier already had a shaky past when it came to the installation of software in their products when, in 2014, German media outlets were openly accusing them of delivering smartphones and tablets with pre-installed malware.
AMC
Founded in 1920 by Maurice, Edward, and Barney Dubinsky, AMC has the largest share of the U.S. theater market ahead of Cineworld and Cinemark Theatres, making it the largest movie theater chain not just in the United States but the world. AMC has bought up plenty of other theater chains in its 100 years, amassing 385 theaters with 5,128 screens in six different countries; however, in 2012, it would be AMC's turn to be taken over.
The chain would be purchased by the Dalian Wanda Group for $2.6 billion, as the Chinese businessman Wang Jianlin, who runs the group, has long had a fascination with Hollywood and is far from new to the game as his group is China's largest film distributor, and as of January 2018, Wanda Cinema has 525 cinemas with 4648 screens across the world.
This wouldn't be the group's only foray into Hollywood, as in 2016, they would add a studio to their portfolio; more on that on the next page. They would also spend $1.2 billion on acquiring Carmike Cinemas to bolster their presence in the American entertainment industry. They wouldn't have it entirely their own way.
In the same year they bought Carmike Cinemas and the production company we will be discussing next, they would also try to purchase a large chunk of Paramount Pictures. Paramount's parent company, Viacom, would roundly reject the deal despite the money that was being thrown at them.
Legendary Entertainment Group
The American film production and mass media company Legendary has produced 53 feature films in its lifetime, many of which we are very familiar with. From Christopher Nolan's epic and critically acclaimed Batman trilogy to the continuation of the Jurassic Park franchise, just those five movies netted them almost $4 billion in box office ticket sales.
It would come as no surprise, then, that many investors would wish to get a piece of the action, not just on the screen but off it. On January 11, 2016, such an investor would come knocking, and it would be the Dalian Wanda Group and its Hollywood fan Wang Jianlin once again.
Having already shelled out $2.6 billion for the movie theater chain AMC just four years earlier, the Chinese group would spend an astonishing $3.5 billion to buy Legendary. This acquisition would make it the largest acquisition of an American media company by a Chinese firm.
In 2017, and with their third CEO in just one year, Wanda chairman Jianlin would announce that Legendary would "actively respond to the call of the country". It's widely believed that this turn towards the Chinese domestic market was a direct result of the Chinese Communist Party's refusal to allow Chinese banks to give loans to the Wanda Group to fund any offshore projects.
Riot Games
Chinese investors wouldn't just be dipping their toes into Hollywood's waters; the ever-expanding video game industry would see Chinese money swim their way. The rise of eSports and computer games in general over the last decade has been in no small part due to the popularity of games like League of Legends. Its creator, Riot Games, would start life as an independent game developer, but that independence would be lost in 2011 when Chinese holding company Tencent came knocking.
It cannot be denied that the multiplayer online battle arena game League of Legends is a huge property. Released on October 27, 2009, it has morphed into a brand with merchandise, toys, accessories, and all manner of apparel.
Tencent Holdings Ltd., which was founded in 1998, saw the potential profits that could be made owning this world-conquering game, so, they would pay an initial $400 million for the majority of Riot Games before buying the company outright in 2015 for an as-yet unknown sum.
Much like the Dalian Wanda Group's acquisition of the AMC theater chain and the Legendary Entertainment Group, Tencent would not just rest with owning Riot Games. They also hold large stakes in Activision-Blizzard, which created the mammoth successes Call of Duty and World of Warcraft, to name a few.
They also have a 48.4% stake in Epic Games, which created the hugely popular Fortnite and Gears of War.
Motorola Mobility
On January 4, 2011, the consumer electronics and telecommunications company Motorola would split itself into two divisions, with Motorola Mobility responsible for their consumer-related products. One of those products would be their mobile phone business, and more importantly, smartphones, which were beginning to dominate the marketplace.
In May 2012, when Google bought Motorola Mobility for US$12.5 billion, they used this purchase to get into the smartphone market. This would be short-lived, as only 2 years later, Google would decide to sell Motorola to Hong Kong-based and Chinese-owned Lenovo on October 30, 2014, for $2.9 billion.
Although Lenovo already had a pre-existing smartphone division, it would use Motorola to get its foot in the door of the American smartphone market. Since Motorola had been a telecommunications company all the way back to 1928, Lenovo would pick up some 2000 patents as part of the deal.
They would become the third largest smartphone manufacturer in the world, and by March 2017, the decision would be made that they would no longer make Lenovo-branded phones and just use Motorola for all future products.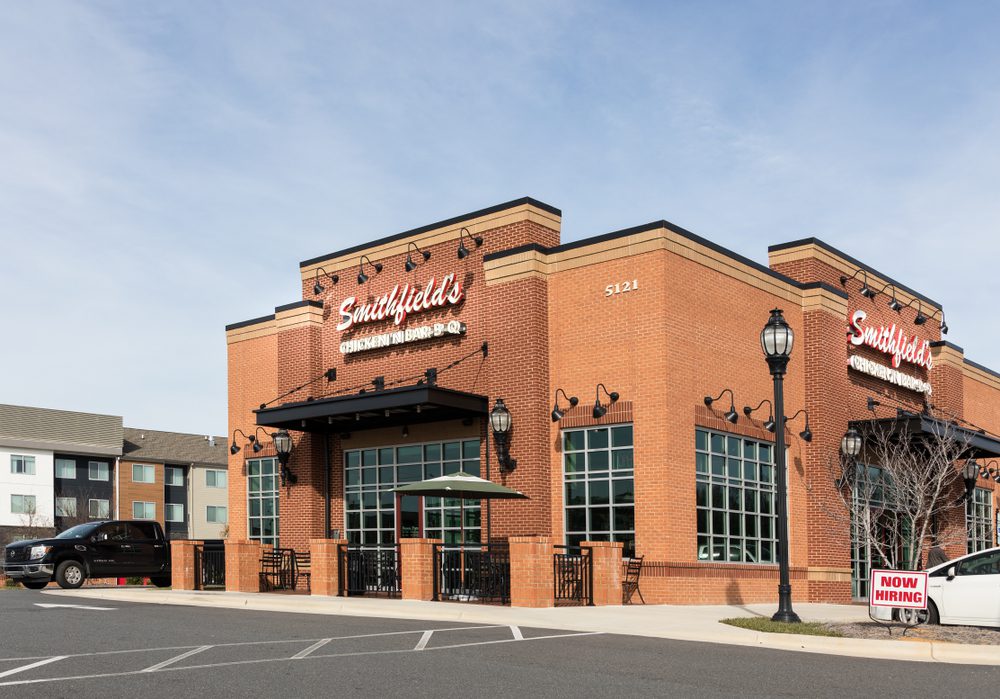 Smithfield Foods
Smithfield Foods' history goes all the way back to 1936. Originally known as the Smithfield Packing Company, Joseph W. Luter, along with his son, would establish a pork-producing and food-processing company that today has become the biggest pig and pork producer in the world.
A deal would go down in 2013 that was four years in the making and would see China's largest meat producer, WH Group (previously known as Shuanghui Group), buy Smithfield for $34 per share, which equates to about $4.72 billion. They would also take on any existing debt they had on their books, making the total deal worth around $7.1 billion.
Before the deal could be finalized, approval would be needed not only from the Smithfield shareholders but also from the Committee on Foreign Investment in the United States, which inevitably they did. Once it was finalized, it would be the biggest acquisition of an American firm by a Chinese company.
Many were worried about jobs and the future of the company, but in just three short years, the WH Group managed to increase profits by an impressive 17%. This was done in no small part due to the increased expansion of Smithfield Foods, as they would spend an additional $145 million to buy California-based Clougherty Packing from its parent company, Hormel Foods.
This book can help you find out more about China and its communist rulers.
You should also check out: 10 Strange Florida Laws Not Even Locals Know About